Tenzing  Wangyal Rimpoche visiting
On Saturday May 5, 2012, we celebrated Buddha's 2556th Birthday
and His Enlightenment & Parinirvana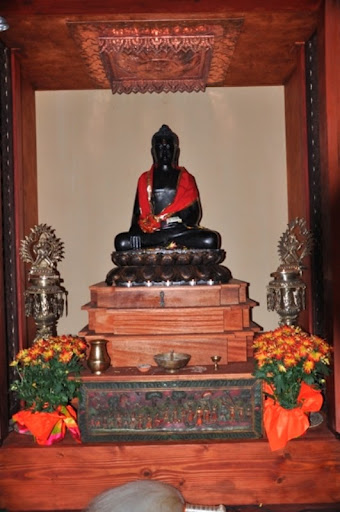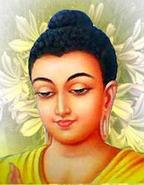 Buddha's Birthday is celebrated on this Full Moon Day in the Newar and Southeast Asian traditions f
riends arrived for chanting and dancing,observing/meditating…and eating.
We began with the traditional Newar ritual done on this day of "Buddha Jayanti" which includes chanting the Namasamgiti (a form of Manjushri) in Sanskrit while lighting 108 butter lamps.
Following the Namasamgiti, we danced the Refuge Prayer Dance 108 times.
Those who knew the dance performed surrounding 108 illuminating butter lamps; and those who observed did know the song and dance by the end of it! Many were simply sitting/meditating.
Afterward, a traditional style Newah kheer (rice pudding) and other dishes was served.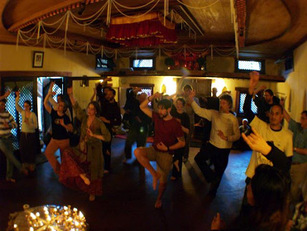 It was a wonderful celebration together!
PAST NEWSLETTERS:  
(Summer 2010)
Dear Friends near and afar,
Things have been settling in here at the
vihara
. With the daily ritual performed morning and evening without fail, more classes and special events, and the inspiration of
the community,
we feel the temple and vihara are fulfilling its purpose. This month we had an inspiring weekend with Prema Dasara, dancing the 21 Taras. She prefaced the dances with clear motivating Dharma talks.

Buddha

's birth and enlightenment day was last month which we celebrated by doing the Refuge Prayer dance 108 times followed by traditional Newar style rice pudding and 'achaar'. In April I did my first solo performance in the temple to reenact my many years of solo travel with '10 deities in a suitcase and a CD', my quick-change-artist performances, but this time it was in my own temple with a singer and Dance Mandal community.
Here is information from events this past summer:
A
 MANDALAS,
A SLIDE PRESENTATION &
FRIDAY,JUNE 25th, 7pm

in the Nritya Mandala temple
Drawing from his extensive research and fieldwork during the renovation of the

Swayambhu

Stupa- a most ancient and holy shrine
in the mandala of the Kathmandu Valley
as well as a World Heritage Site-
special guest speaker 

Alex

von Rospatt* will give a talk and slide presentation on the stupa as a representation of Buddhahood. The talk  includes how the 5 Buddhas collectively embody this principal in the expanded Dharmadatu Mandala and through images of the people and places of the Valley he demonstrates the connection to their daily lives.
Following a tea break, the mandala theme will be reflected in the Dance Mandal student dance performance. Guest dancer Manju von Rospatt, visiting from Berkeley and Alex's 8 year old daughter, has studied Charya Dance with Dance Mandal both in the Kathmandu Valley and in Portland. She will perform a solo dance. A newly performed group dance with Prajwal will be the one-eyed, one-toothed, one taste protectress Eka Jati. Other dances will include the Dakinis, Taras and Buddhas of the Nepala Mandala. Singer Rik Masterson will accompany the dances.
*Alexander von Rospatt is a Newar Buddhist scholar and is Chair of the South and

Southeast Asian Studies

Department of

UC Berkeley

. He specializes in the doctrinal history of Indian Buddhism and in

Newar Buddhism

, the only Indic Mahayana and Vajrayana tradition that continues in its original South Asian setting, in the Kathmandu Valley, right to the present. His first book sets forth the development and early history of the Buddhist doctrine of momentariness. A new book manuscript deals with the periodic renovations of the Svayambhu Stupa from which he reconstructs the ritual
history of these renovations and their social contexts
.

 
 DAILY:
MORNING RITUAL and OPEN MEDITATION

–
The traditional morning ritual along with meditation is performed daily- weekdays 8am-9am, and Sat. & 

Sun. 9am-10am

. 

You are welcome to come observe and do your own meditation

and may also eventually learn the ritual

.

Tea is offered afterwards on most days. Enter the front gate at anytime during the hour, and first circumambulate the temple clockwise, then end up again at the temple's side door to enter.
SUNDAYS, June 27

,

July 25

,

August 29

:
MUDRA

YOGA WORKSHOPS– 10am-1pm –
The workshops emphasize spiritual
yoga
through subtle fluidity of movement, breath, and stillness. Mudra yoga leads to experience and understanding of the internal energies of our
subtle bodies
and of our own individual mudras, culminating in realization of Mahamudra (highest realization). Prajwal guides participants with simple movement, gestures and positions from his Buddhist lineage of deity yoga. No experience necessary. Suggested donation $25.[no one turned away for lack of funds] Register by calling
503-233-3703
or emailing
prajwal@dancemandal.com
THURSDAYS,  June 3- July 8

:
AVALOKITESHVARA DANCE

– 
7pm.

6 consecutive Thursdays. Avalokiteshvara, also known as Chenresig or the female

Kuan Yin

, is the embodiment of universal compassion and is the softest, gentlest, and most fluid of bodhisattva dances represented in the Charya Nritya tradition. Study Avalokiteshvara's  attributes, energy, form, song, gestures, movement and complete dance from the Newar

sacred dance tradition

of the Buddhist priests of Nepal. This is an ancient form of deity yoga meditation for physical transformation, refinement of emotions, and spiritual awareness. Taught by lineage holder,

 

Prajwal Vajracharya, this complete dance of  Avalokiteshvara is for anyone of any physical capability. Suggested donation $70 [no one turned away for lack of funds] for the series. You may join at anytime.
Coming in July: The Abundance of Vasundhara-
Golden Vasundhara is t
he Mother Earth Goddess of prosperity, fertility, enrichment, and wisdom and is venerated in Indian,

Tibetan

and Newar traditions. Helen will guide participants in the full dance, revealing Vasundhara's continuous shower of blessings and her abundant nature in each of us. 6 week series.
Regular movement classes meet

on Mondays

and Fridays.
Please come and visit, join us for an event, class or sip some tea from my collection.
from Prajwal, Helen and All from Dance Mandal
Nritya Mandala Mahavihara
helen@dancemandal.com                         Hi Dear Friends, As you know we have finished the temple. The temple, courtyard and house together is the Nritya Mandala Vihara which has turned into a mahavihara [or great vihara/ mother vihara] as determined by the elder priest from Nepal, Yagyaman Pati Bajracharya, since it is the first in the country. He was here to perform the consecration with Prajwal along with Sugat Bajracharya, a priest who was also visiting from Nepal. Continue reading →