Upcoming Events  in Temple 2017

SACRED DANCE OFFERING
Saturday, February 25, 7pm

We hope you can join us for our dance offering this Saturday featuring some newly performed dances, a newly made mask, new children performers, and some old favorites on this auspicious day for protecting the dharma.
************
MUDRA YOGA WORKSHOP

Last Saturday of each Month
more info: http://www.dancemandal.com/offerings/
************
MEDITATION MOVEMENT WORKSHOP
Saturday March 4 th
10:30am – 1pm
1st Saturday of each Month
http://www.dancemandal.com/offerings/
************
*****************
This beginning class will offer basic movement exercises for the fluid compassion of Bodhisattvas, the power of Goddesses, and the wrath of Protectors. It will also guide participants in learning the Refuge Prayer Dance, 16 Offering Dance and the short praise dances to deities such as Tara,  Avalokiteshvara, Vajrayogini,  etc.  This includes songs and chants that accompany the dances, a visualization meditation, and the spiritual significance of the iconography. This many dimensional  introduction provides the basis for learning the complete dances of the deities while exploring one's own body and mind.
Suggested donation $80/series
To Register:
**************************
PLEASE COME AND JOIN WITH PREMA DASARA , MYRI DAKINI & M

EKARE FISKE FOR AN ADVENTURE THE GODDESS TARA AND HER 22 MASKS!!!



March 24 Friday
Blessing The Masks Of Tara
Buddha Goddess Tara is one of the most beloved forms of Divinity in Vajrayaya Buddhism. The chanting of Her 21 Praises is one of the most common forms of Her practice. Thirty years ago Prema Dasara created a mandala dance of empowerment using a sadhana that encompasses these Praises and she has taught this dance around the world.
One of her teachers, His Eminence Tai Situ Rinpoche, had a vision that she would be creating a festival that featured the dance. As Prema explored this idea she envisioned a mandala of dancers in masks. With His Eminence's encouragement she has had a set of masks carved in Bali.
Mekare Fiske, who worked closely with the Balinese artists, will be bringing the masks to Dance Mandal.
Friday, March  24th,  3-5 PM.
for Prajwal Vajracharya to consecrate them in the Newar tradition.
Please let us know if you would like to attend.  To register
This event is by donation.
Sacred Dance Offering
Friday night, 7:30 PM – 9:30 PM Mekare Fiske will join Prajwal, and Helen in giving a presentation of masked dancing, sharing some of the sacred insights of the magic of dancing in a mask.
Prema and Myri will perform a dance of blessing for the masks,
"May There Be Good Fortune"
celebrating the eight auspicious symbols of the Vajrayana.
Suggested donation $21
For More Information about the Tara Dance go to
For more information about Mekare and the masks
You can also read about the rest of the story
For an insightful article about mask dancing
For more information about the "Festival of Prayer"
Would you like to experience dancing with one of Tara's Masks
Come to – Dancing Tara Retreat – March 27-April 2
at Mt. Madonna in the Santa Cruz, California Mountains
Dive into the heart of the Mandala Dance of Tara. Retreatants will have the opportunity to be initiated into the mystery of dancing with a mask. For information
********************************************
KEITH DOWMAN TEACHING
Dzogchen: Pointing Out in the Bardos
In all of the bardos of life, death, reality and the spirit realm we can find the Great Perfection. Through the pointing out of the nature of mind, we rehearse death in life and life in death. We also practice the Dzogchen Powa of sublimation and other exercises that make death a pleasure.
Keith Dowman teaches Radical Dzogchen as the essence of Tibetan Buddism
Contact: Jogen at jogen@greatvow.org
Diane Steinbrecher (503 235 2005) at fastp0ny@aol.com
**************************
AVALOKITESHVARA DANCE RETREAT 
An Intensive Weekend of the Bodhisattva of Universal Compassion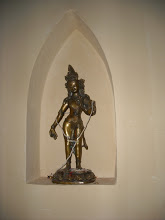 March 10,11&12
March 10 Friday 6-8pm
Saturday 9am-8pm
Sunday 9am-4pm
 Avalokiteshvara, also known as Chenresig or the female Kuan Yin, is the embodiment of universal compassion and is the softest, gentlest, and most fluid of bodhisattva dances represented in the Charya Nritya tradition. Participants will study Avalokiteshvara's  attributes, energy, form, song, gestures, movement and complete dance from the Newar sacred dance tradition of the Buddhist priests of Nepal. This is an ancient form of deity yoga meditation for physical transformation, refinement of emotions, and spiritual awareness. Taught by lineage holder, Prajwal Vajracharya, this complete dance of  Avalokiteshvara is for anyone of any physical capability. Suggested donation $208 [no one turned away for lack of funds]
To Register:
ONGOING EVENTS:
HEALING MEDITATION MOVEMENT WORKSHOP
Every FIRST SATURDAY of the Month*
10:30am to 1pm
The sacred dance of the priests of Nepal is a dynamic yogic discipline for healing and transformation. The dance movements and meditative elements effect profound changes of mind and body. The goals of the dance are yogic mastery of the body, refinement of the emotions, and deepened spiritual awareness. This workshop introduces the theory of the movement style and accompanying visualizations and chants. Participants will be guided through basic movements and dance sequences of this yogic dance form including Refuge Prayer Dance. This workshop is a unique opportunity for anyone interested in healing arts, sacred movement, meditation, Buddhism, or Asian practices and performance traditions.
Teacher: Prajwal Ratna Vajracharya
No experience necessary.
Suggested donation $25
To register call 503-233-3703
or email Prajwal@dancemandal.com
———————————————————————————————————-
Mudra Yoga Every Last Saturday Of The Month (10:30am – 1pm)
Emphasizes spiritual yoga through subtle movement. Through the fluidity of movement, breath, and stillness, we can experience the internal energies of our subtle bodies. Mudra Yoga leads to the understanding of our own individual Mudras and culminates in realization of Mahamudra (enlightenment). It will guide you with movement, gestures and positions from lineage of deity yoga, which is for refinement of the emotions, and deepened body and spiritual awareness.
No experience needed for either workshop
Teacher: Prajwal Ratna Vajracharya
Suggested donation for Mudra yoga and each Meditation workshop $20.00

More information 
www.dancemandal.com
Or call 503-807-5252/503-233-3703
———————————————————————————————————-
*Singing Charya Giti: the songs of Charya Dance are a sadhana of deity yoga practice in simple Sanskrit.. Anyone interested in learning these songs and about the singing tradition please contact us.
———————————————————————————————————-
*If anybody is interested in private Charya Nritya dance class please contact Prajwal.
———————————————————————————————————-
Daily Ritual and Meditation – To keep the sanctity of the temple, a traditional ritual with meditation is performed daily- Weekdays 8am to 9am, and Weekends 9am to 10am. Open for observing or meditation at this time.
———————————————————————————————————-