"I just want you to let you know Nritya Mandala Mahavihara  became a 501(c)3  from 2017. All your donations will be tax deductible !!!"   prajwal

Nritya Mandala Mahavihara
The name of our study and practice center is Nritya Mandala Mahavihara. Vihara, a Sanskrit term (Baha or Bahi in Newar), connotes a Buddhist monastic center, a complex for meditation, ritual, and study, as well as practicing the sacred arts. It houses a library for the scriptures, a main temple, other shrine rooms, residence 'monks' or practitioners ['householder monks' and families in the Newar tradition] and inspires dedication to inner practice. In the complex, across the courtyard from the temple is a library of mainly books on Buddhism, as well as other traditions, books on Sacred Arts of many traditions, Newar traditional Buddhist texts and translations as well as scholarly works on many aspects of the Newar religious culture and arts. Also in the house of the Vihara is a community area, along with the necessary kitchen, for gatherings in this space, and room designated for the art of making costumes, ornaments, and masks.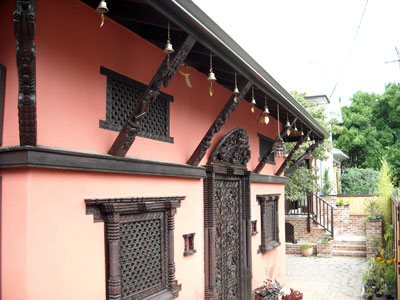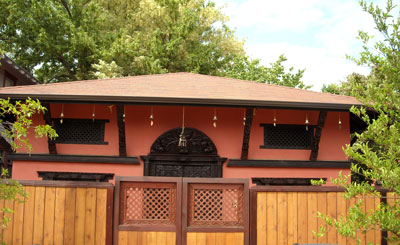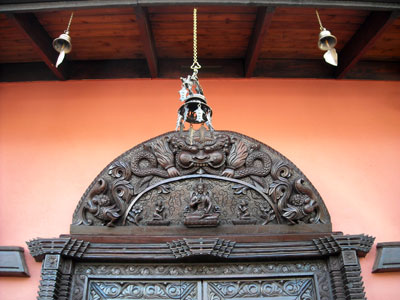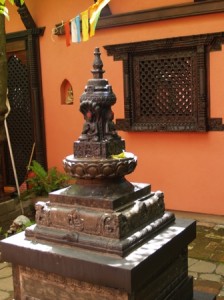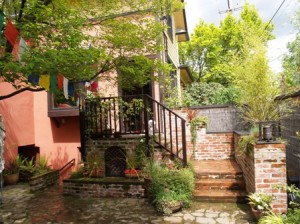 Vihara library and Tara altar

Inside the Temple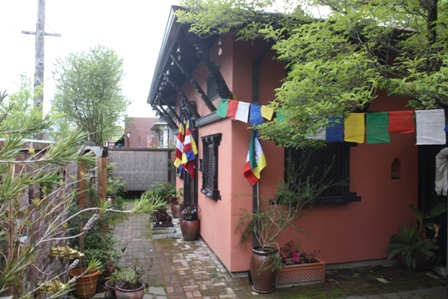 Daily Ritual and Meditation in Nritya Mandala Mahavihara –
To keep the sanctity of the temple, a traditional ritual with meditation is performed daily- Weekdays 8am to 9am, and Weekends 9am to 10am. Open for observing or meditation at this time. Enjoy tea with Prajwal when he is in town.
Click for More Dance Mandal Photos on Picasa Web Gallery:
https://get.google.com/albumarchive/117862561526821707089 
Every Morning: Open Meditation during the daily ritual followed by tea Weekdays: 8am to 9am Weekends: 9am to 10am For more, see the events page.   —————————–Consecration News——————————————— The 3-day consecration ceremonies were held on the auspicious dates of November 9, 10, and 11, 2009. The procession for the main Buddha statue was on Nov 6, 2010. Ground-breaking for the temple was in March of 2008 and the site was completed in the fall of 2009. Next came purification and empowement of the space and the elements. To affirm its roots in and continuity of the ancient Newar traditions, two elder Buddhist priests from Kathmandu came to perform the ritual ceremonies along with Prajwal, consecrating the temple and vihara in the traditional manner. They empowered the sangha to perform the daily meditations and ritual that will continue to enhance the spiritual potential of the temple and Vihara, as well as offering an oppurtunity to consult with them and benefit from their expertise regarding the ongoing ritual life of the temple.  Now the temple is the ideal environment to dance the deities as ritual and perform traditional ceremonies, as well as be a place of daily meditation and devotion open to all those dedicated to profound practice.